Love Every Body Workshop #1
Hi Lovelies,
I've just asked Leah if i can join in with her Love Every Body Workshop and I'm going to do my best to catch up as they are 3 assignments in.
Dec 2013 Assignment 1 - I'd like you to write a letter to your body, acknowledging the things you've been through together. For example: What accidents and illnesses have you had? Do you have scars, tattoos? Have you been operated on? What have you been through in your body, good and bad? What highs and lows have there been? Does your body make you feel happy, sad, disappointed? Do you feel at one with your body or is it the enemy? What parts do you like and dislike? What parts do you want to work on being happier with? These are just suggestions. Make your post your own and feel free to add photos, art, a poem, or any other creative endeavour.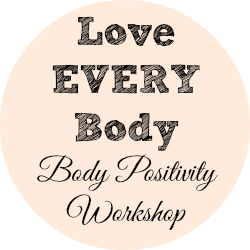 Dear Body,
Hi How you doin'? I hope you're doing ok although I suspect you could be better.
I want us to have a little chat just between us and the rest of the internet about how we feel about each other.
Illness: Chicken Pox and measles x 2, Ear problems, tonsils & adenoids removed. Grommets in twice.
I've got a scar on my ankle from when I was a baby and played with a pottery rose at my grans.
I've broken my wrist and I am always falling so my knees are shot to pieces and I have the delight that is PCOS but my doctors don't care as I don't want kids.
Inside my body I feel like I need a complete overall, ripping out and starting again from the ovaries up.
Outward I don't mind the individual elements, arms, legs, back, front, side but I don't really like them combined to make me.
I dislike my double chin and the fact that I have no neck I need to work on this as I feel it is affecting my health and wellbeing.
My mind is my own and I feel like I have an odd sense of humour not many people get, I'm socially awkward and sometimes I have to take myself out of a space when my paranoia and social anxiety is getting too much, I think part of this is being an only child too many people over whelm me. I try to put a front on and people say I'm not shy and I'm probably not shy just a bit odd and don't always come across as well as I'd like.
I repeat scenario's in my head and constantly repeat stuff to the point where I have to force myself to shut up. (I do my own head in, so I can only feel for people who have to spend time with me)
Love Steph xxx
Here are the list of people participating on their blogs.